The children of Aschiana Orphanage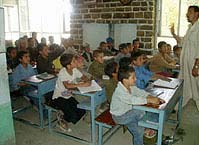 Their aim is to assess the needs and promote the welfare of vulnerable street working children and their families in accordance with basic child and human rights.
The project provides services to create opportunities for developing life survival skills, basic education, literacy and numeracy, skills development, vocational training, health education, access to basic health care and the development of environmental awareness.
To date Aschiana has 2,580 children attending its' centers. It also caters for 800 children through its' street outreach program for children living in the IDP (internally displaced people) camps unable to access the centers providing them with basic education, recreation and health education.